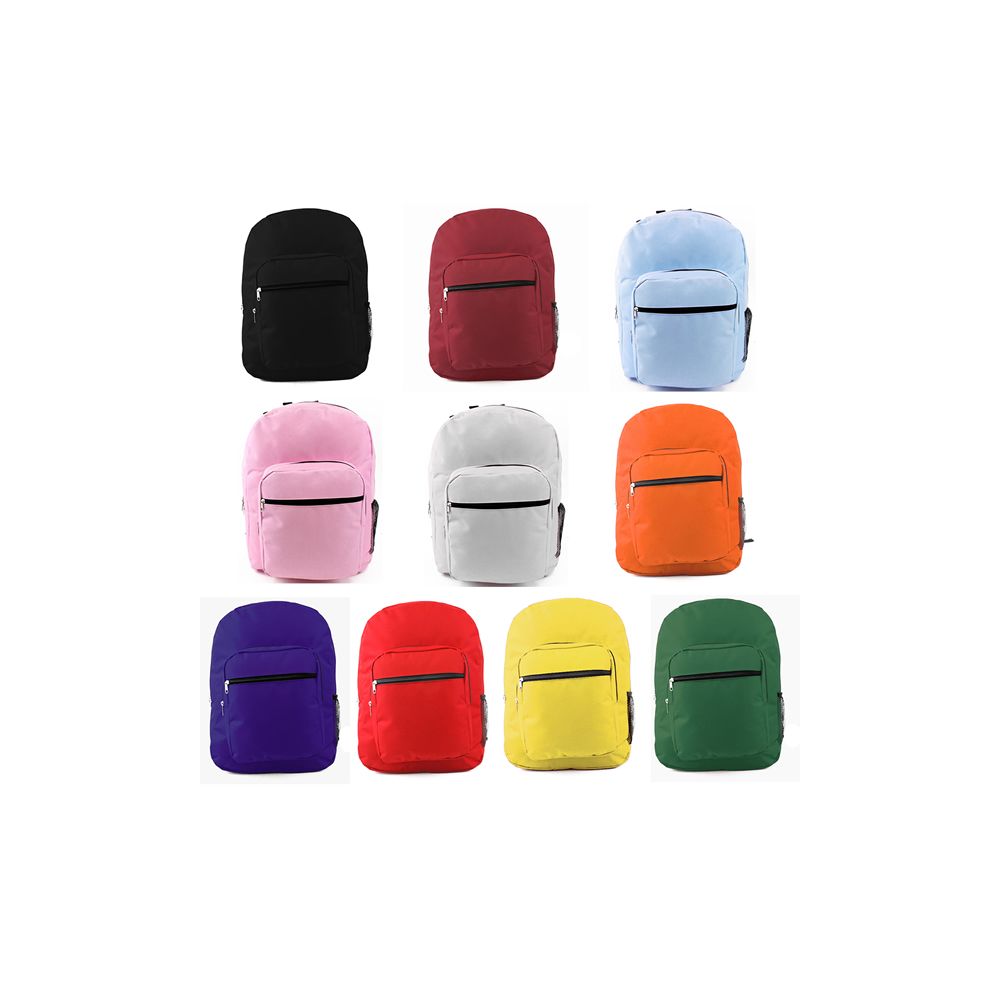 24 of Kids Fashion School Backpacks
Due to manufacturer shortages of raw material we will contact you regarding availability for this product if needed.
The 12120 is a 17.5 inch backpack quality crafted in a strong 600D polyester and is built to withstand the rigors of a demanding school year. This quality wholesale backpack features a large main compartment along with a spacious front pocket. The front pocket also has a zipper closure pocket for small items that you need to get to fast. With a convenient mesh side pocket to hold water bottles the 12120 is a perfect size for both boys and girls of all ages in middle school and high school and college! Quality crafted, comfortable and durable, the 12120 boasts a heavily padded back as well as adjustable padded straps. The 24 piece assorted case will include black and an assortment of many other random colors where you will get at least 6 different colors in each assortment. Colors in the assortment vary depending on availability. Dimensions are: 17.5 x 12 x 5.
Case (24 Pieces): $220.56
Related products
Case (24 Pieces): $252.00

Case (24 Pieces): $228.00

Case (24 Pieces): $235.20

Case (24 Pieces): $189.12

Case (24 Pieces): $237.36

Case (24 Pieces): $228.96

Case (24 Pieces): $247.92

Case (24 Pieces): $216.24

Case (24 Pieces): $302.40

Case (24 Pieces): $216.24

Case (24 Pieces): $197.52

Case (24 Pieces): $216.24

Case (24 Pieces): $184.80

Case (24 Pieces): $274.80

Case (24 Pieces): $285.12

Case (24 Pieces): $285.12

Case (24 Pieces): $345.36

Case (24 Pieces): $345.36

Case (24 Pieces): $369.60

Case (24 Pieces): $528.24

Case (24 Pieces): $119.76

Case (24 pieces): $264.00

Case (24 pieces): $264.00

Case (24 pieces): $240.00

Case (24 pieces): $240.00

Case (24 pieces): $240.00