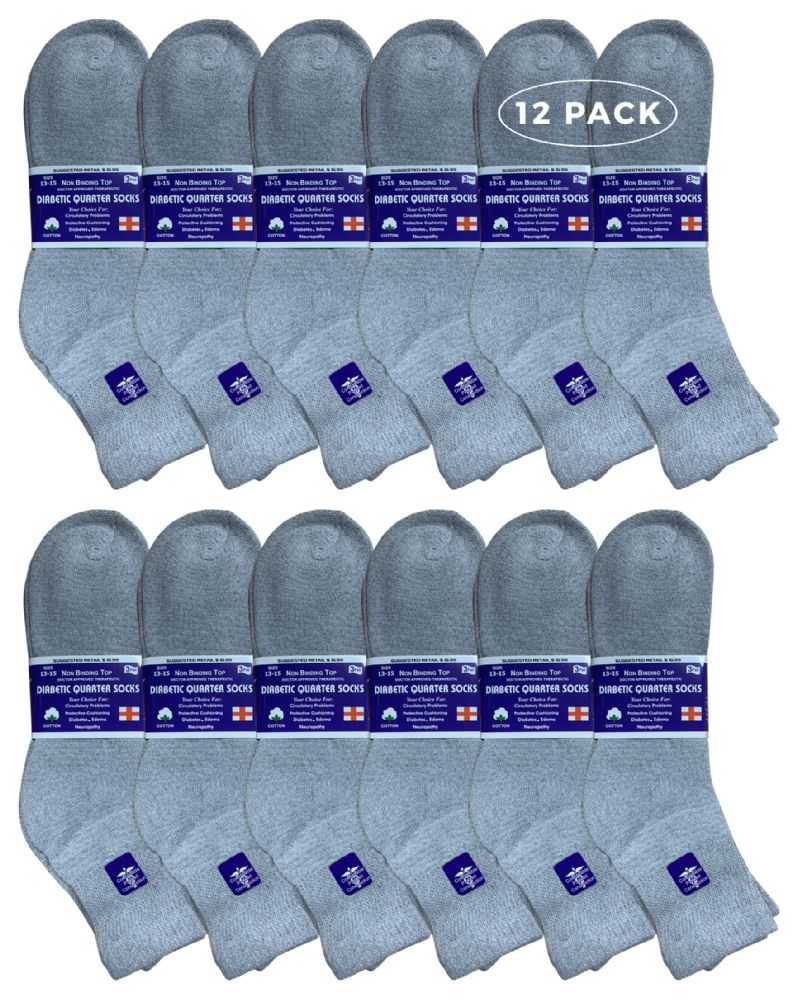 12 of Yacht & Smith Men's King Size Loose Fit NoN-Binding Cotton Diabetic Ankle Socks,gray Size 13-16
COMFORTABLE & LIGHTWEIGHT: Mens solid color diabetic crew socks. Lightweight and Non-Binding great for blood circulation. Loose fitting style won't constrict your legs and slips on easily over swollen ankles and feet. The absolute best pair of socks for people who suffer from edema, diabetes and neuropathy.Perfect for recovery after surgery or long hospital stays.
THERAPEUTIC CUSHIONING: Get all day comfort from these soft cushioned therapeutic crew socks. Great for walking and will help prevent swelling in the feet and ankles. If you have circulation problems these socks will help improve blood flow by reducing the amount of constriction around your calves and ankles. Antimicrobial features prevents bacteria and fungal growth for increased orthopedic health.
: Constructed of cotton with just the right amount of stretch. Keeps their shape and stretch through many washes. Soft breathable material is ideal for people who wear shoes and socks all day long.Keeps your feet cool and dry all day long.Our diabetic socks are made to decrease the risk of foot injury, and avoid preventing or slowing blood circulation. They are made of materials that have superior abilities to wick away moisture, are fitted, padded, and nonbinding, an
BULK VALUE: Get a value pack of mens diabetic socks at an affordable price. This perfect blend of fibers alleviates pain and swelling and makes a great gift for your loved ones. Charity organizations and homeless shelters can rely on getting the absolute best prices and great quality. People that buy diabetic socks for hospitals and charities can expect quality therapeutic socks that promote orthopedic health and overall comfort. We are proud to work with nonprofits, shelters, hospitals and chur
Sock size 13-16 fits men's shoe size 12-14. Machine Wash/Dry for easy care
Bulk pack of Men's King Size diabetic socks in solid colors.
Protect your feet from the elements with a quality pair of men's diabetic crew socks. Loose fitting design doesn't constrict blood flow and slips on easily over swollen feet. Solid colors & breathable material great for everyday wear. Perfect for those suffering with edema and diabetes. Diabetic socks are an important tool in diabetic foot care, fortunately, the right pair of diabetic socks can help provide comfort and alleviate foot pain. Get the most for your money when you buy wholesale diabetic socks in bulk.
Products from this warehouse ship with in 1-2 Business days.
Create an account to view pricing. This site features heavily discounted prices only for verified Non-profit and charity organizations. Once you create your account, you will enter a review and approval process. One of the members of our team will review your credentials. If you're approved, you will receive a notification via email and have instant access to the site and pricing. If you aren't approved, don't worry. It is possible to get approval at a later date.