96 of Yacht & Smith Lot Of Sterling Silver /Stainless Steel Earrings, Great Valentines Gift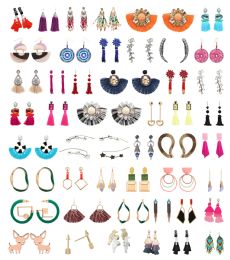 Enlarge
Product info
Transform your store into a go to spot for accessories with a value pack of fashion earrings.Get a great assortment of trendy earrings including colorful tassel earring, cute ear cuffs , beaded fringe earrings and much more! Each set contains 48 pairs of this seasons hottest styles earrings in fun colors and designs
- Our fashion earrings are made of high quality material and is perfect for resale. Made to last and is a great choice for people who love to accessorize. You will love the wide variety of studs, ear climbers, beaded fringe earrings and lots more.
- Bulk pack of fun assorted earrings include chandelier earrings, copper statement earrings, long fringe danglers and much more. Give your customers a complete look with fun fashion accessories to compliment their outfits.
- A great buy for boutiques and gift shops. This variety set contains so many different styles for any age and makes a perfect present for women, kids and teens. Makes a great giveaway for parties and events!