36 of Mens First Quality Cotton Short Sleeve T Shirts Mix Colors Size Large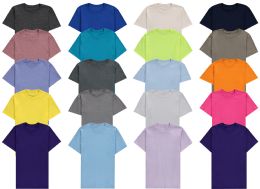 Enlarge
Product info
SIZES: Solid Colors cotton crew neck shirts available in sizes Small, Medium, Large, XL, XXL and XXL. Tagless for extra comfort.100% soft cotton. Assortment is assorted and may receive colors not imaged. First Quality T shirt will have a slight X mark on inside of shirt
COMFORT: Get the ultimate in comfort with tagless Short sleeve undershirts. Classic fit tee with no scratchy tags. Reinforced collar and roomy armholes for laid back but not slouchy look. Choose classic crew neck style T shirts for everyday wear.
COTTON: Stock up on essential white tee shirts that are made well and look great. 100% soft pre-shrunk cotton tee shirts have the perfect fit and keep their shape wash after wash. Comfortable cotton will give you a nice soft layer between your dress shirt and your skin.
STYLE: The search for the perfect Assorted colors tee shirt is finally over, SOCKS'NBULK classic fit tee shirts have the perfect thickness so you can wear as an undershirt or a t-shirt. These traditional white tee shirts are just right for that cool classic look.
BUY BULK: Great for promotional use or even for a charity event. T shirts are essential for relief centers, urgent care organizations nationwide. Shop with Wholesale sock deals for the lowest prices on first quality mens t shirts.
MIX COLORS: This Purchase comes packed by size mixed colors MOSTLY DARK. You may receive colors not imaged here. First Quality Bulk Value Deal Guaranteed!