240 of Womens Argyle Crew Socks Assorted Colors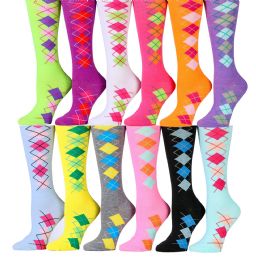 Enlarge
Product info
These cute knee high socks for women come in assorted colors. Give yourself different colors to go with each outfit and style.
Perfect to wear with knee high boots, mid boots, shorts, skirts, and more.
Perfect for all season wear and various occasions. Whether you're wearing it casually, to work, to a party, or to dinner.
One size fits most. Size 9-11 will fit women's shoe sizes 5-11. 20% stretch spandex allows more comforting fit.
Made with 80% cotton and 20% spandex for stretch and comfort.